Facility Builders and Erectors Images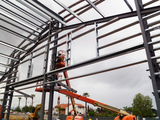 FBE's steel erection crew is making progress on the front of the commercial steel building in Highland, California.
The erection crew is making progress on the discount store in Highland. The men erecting the steel building are using boom and scissor lifts to create the roof structure.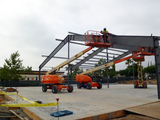 Facility Builder, experienced building erectors, are using boom lifts to secure the steel roofs. The pre engineered metal building is still in the beginning stages of erection.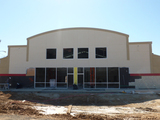 Facility Builders & Erectors erected a new retail facility. The commercial metal building will be a new location for a discount store.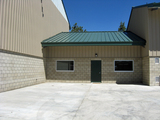 Facility Builders constructed the material recovery facility with masonry walls. The facility includes a maintenance shop and an administration building.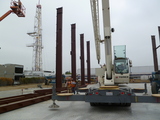 The Facility Builder's erection crew is in the early stages of assembling the pre engineered metal building.
FB&E erects the two-story office and administration building in Orange. The erection crew is assembling the steel frame of the building. Metal buildings in California are more cost efficient in today's commercial industry.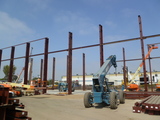 Facility Builders and Erectors work on the 80-ton crane bay building in Orange. Metal building construction involves erecting the pre engineered steel frames.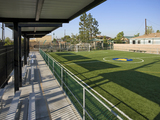 Facility Builders, a specialized building contractor, constructed the themed community park for children with play areas, indoor soccer field, mountain lodge, kitchen, theater, and wood burning fireplace.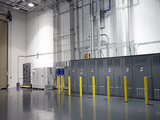 The custom metal building manufacture facility features clean environments, interior mezzanine, overhead crane, and airlock for moving parts.
The state of the art G.I.S substation is housed in a historically accurate facility, designed for the City of Anaheim. Facility Builder was the design builder for the City of Anaheim.
FB&E transformed the 160,000 sf shell into a fully functioning manufacturing facility featuring a clean room, office space, and central heating and cooling system. The office renovations included an administration building.