Facility Builders and Erectors Images
The pre engineered metal bike shop was constructed for a local school in California.
Facility Builders erected a new bike shop for a local school, featuring a roll up door and masonry finish.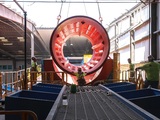 FB&E installs a new trommel for a material recovery facility in Hesperia.
Facility Builders & Erectors installs a trommel in Hesperia.
Facility Builders completed the three building animal shelter for the City of Yucca Valley.
The Animal Shelter in Yucca Valley was built with the animals in mind, featuring a courtyard for the animals to roam and play.
The Yucca Valley Animal Shelter has its own Administration building that accommodates to its staff and the demands of the rescue center.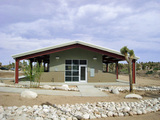 The public works project in Yucca Valley features three metal buildings catered towards the rescued animals and administration staff.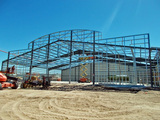 The Facility Builders crew is working to assemble the pre-engineered metal building for commercial use.
FB&E erection crew assembles the large span airplane hangar. Facility Builders has experience in many transportation industries.
The new steel warehouse facility in Anaheim has a clear span and open end entrances.
Facility Builders & Erectors renovated the reception lobby to accommodate to the clientele. FBE has the experience and knowledge to perform your next tenants improvement.