Facility Builders and Erectors Images
The Facility Builders erection crew is in the early stages of assembling the carwash facility.
The FB&E crew built out the interior lobby of an equipment rental facility. Facility Builders was the Construction Manager for the Owner of the facility.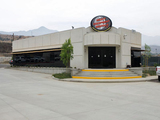 Facility Builders constructs a new facility for an equipment rental facility. FBE has many years of experience in construction management.
Facility Builders erection crew completed a vehicle maintenance facility in Anaheim. FB&E specializes in commercial and industrial projects.
FB&E's steel erectors erect the 240' clear span airplane hangar.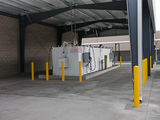 Facility Builders constructed the new fueling station for the City of Buena Park. The site improvement included a new truck maintenance facility.
The newly renovated truck maintenance garage was constructed for the City of Buena Park. FB&E the general contractor also built the new fueling facility.
As general contractors, FB&E performed a tenant improvement for the City of Buena Park. The public works project restored the existing manufacturing and office spaces for the City.
FB&E completed the tenant improvements for the City of Buena Park. The new office space, vehicle maintenance facility, and fuel station was constructed by Facility Builders, the general contractor.
The public works TI construction was awarded to Facility Builders & Erectors to convert the 100,000 sf office space and maintenance facility for the City of Buena Park.
Facility Builders & Erectors are installing the pre engineered steel building in Highland. The team use scissor and boom lifts to aid in the steel building construction.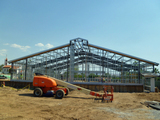 The prefabricated steel building will be the new location for a discount store. FB&E's erection crew successfully installed the frame of the facility.